Privacy Policy
NAWETTI's General Online Transactions Privacy Policy
Welcome to Na Wetti Online Interactions, a service provided by MAHSRA INCORPORATES LTD
Your privacy is important to us. This Privacy Policy explains how we collect, store, use, disclose and otherwise process your information when you use Na Wetti Online platforms (together, the "Website"), our mobile and desktop apps (the "Apps"), and all related sites, players, widgets, tools, apps, data, software, APIs and other services provided by Na Wetti Online Interactions (the "Services"). This Privacy Policy applies to any Website, App, or Service that refers to this Privacy Policy, i.e. by linking it to the official NAWETTI.COM domain name.
This Privacy Policy explains the following, amongst other things:
Data Controllers

Our Privacy Principles

The Information We Collect

How We Use Your Information

How We Share Your Information

Information Security

Children

Your Choices and Controls

Exercising Your EU Privacy Rights

Contact Information

Changes to this Privacy Policy
Information relating to our use of cookies and other similar, and further incorporated technological novelties will be set out, if not cover within our Privacy Policy and Terms of Service, in the concerned itemized usage policies, and which will still form part of the Privacy Policy. When we refer to the Privacy Policy, we are referring to the Privacy Policy, Cookie Policy and further other information gathering apps on our online platforms.
Please take some time to read this Privacy Policy, along with our Terms of Service, in order to ensure you understand and are comfortable with our use and disclosure of your personal information. If you see an undefined term in this Privacy Policy, it has the same meaning given to it in our Terms of Usage.
Please note that this Privacy Policy only applies to the Website, Apps, and Services (together, "Our platforms"). When using our platforms, you may find links to other websites, apps, and services, or tools that enable you to share information with other websites, apps, and services. Na Wetti Online Interactions is not responsible for the privacy practices of these other websites, apps, and services and we recommend that you review the privacy policies of each of these websites, apps, or services before connecting your Na Wetti Online Interactions account or sharing any personal data. We share a unique general Privacy Policy and Terms of Service content across all our official websites.
If you do not agree to any of the provisions of this Privacy Policy, you should not use our platforms. If you have any questions or concerns about this Privacy Policy, you can contact us at info@nawetti.com
Data Controllers
When this policy mentions "Na Wetti Online Interactions," "we," "us," or "our," it refers to the Na Wetti Online Interactions entity that is responsible for your information under this Privacy Policy (the "Data Controller").
If you are located in Cameroon, MAHSRA INCORPORATES LTD is located on: 1st Floor, Former Mezam hotel building, Savannah Junction – Commercial Ave, PO Box 1091 – Bamenda, North West Region – Cameroon;
We may share your data within our corporate group of companies that are related by common ownership or control ("Na Wetti Online Interactions Group") who may process the data of users on MAHSRA INCORPORATES LTD's behalf.
Our Privacy Principles
Na Wetti Online Interactions is committed to putting its users first and believes you should know what data we collect about you, why we collect it, and how we use and share it. That's why we've drafted this Privacy Policy to give you simple, clear, and actionable information about our privacy and data protection practices.
We believe users should also have meaningful choices over the data we collect, use and share as described in this Privacy Policy, your Settings, and the Help Center (if available for the Na Wetti site you are using). We encourage you to take full advantage of these tools.
Information We Collect
The personal information we collect is related to providing our platforms and their features and falls into three general categories:
Information you provide to us
Information collected automatically
Information we obtain from third parties
Information You Provide
We ask for and collect the below personal information when you use our platforms. This information is necessary for the adequate performance of the contract between you and us and to comply with our obligations thereunder.
We process this information in light of our legitimate interest in improving our platforms and giving our users the best experience, and where it is necessary for the adequate performance of any contract between us and you, including but not limited to the Terms of Service/Usage. Without it, we may not be able to provide you with all the requested services and features of our platforms.
You don't need to register for a Na Wetti Online Interactions account in order to visit or use our platforms. However, certain Services require that you register for an account and, by doing so; you will need to provide us with certain information:
Account Information - When you register any kind of Na Wetti Online Interactions account, you will need to provide your email address (except when you sign-up with Facebook, Google or Apple and don't give your permission to share it with Na Wetti Online Interactions), your age, and choose a password. In addition, if you purchase a Subscription, you will also need to provide your real name, billing address, and payment verification information.
Profile Information - you may choose, at your discretion, to provide additional information for your public profile on Na Wetti – for example:
your real name
a user name (which may be your real name or a pseudonym)
the city and country in which you live
a profile picture, profile header image, or avatar
information about how you categorize yourself with respect to your content (for example, whether you are in some other categories or where necessary as required o four site
details of your other websites and social media profiles, including links to those pages
your gender if you wish to provide it or where necessary as required of ours site
any additional information you choose to provide as part of your public profile, such as your real name, and links to your website and other social media profiles will be published on your profile page. This information will be publicly accessible and may be viewed by anyone accessing the Website, or using our API or other Services.
Communications - When you communicate with Na Wetti Online Interactions by email or through our platforms or use our platforms to communicate with other users, we collect information about your communication and any information you choose to provide.
Survey Information - If you participate in any survey, you may provide certain personal data as part of your response, unless you respond anonymously.
Information You Post - You may provide personal data when you upload media to our platforms, or when you post comments, or contribute to community discussions.
Information We Collect Automatically
There is certain information that we collect automatically as the result of your use of our platforms, subject to the choices you make in your Settings, or through the use of cookies and other web analytics services as described in our Cookie Policy. This information generally includes:
Usage Information - We collect information about your interactions with our platforms, including the pages that you visit and links you click on, following or unfollowing another user, posting a comment, performing a search, the time, frequency, and duration of your visits to our platforms, and whether you interact with email messages, for example, if you opened, clicked on, or forwarded the email message.
Log Data – We automatically collect log information when you use our platforms, even if you have not registered for an account or logged in. That information includes, among other things: details about how you've used our platforms (including links to third party sites or services), Internet Protocol (IP) address, access times, your browser type and operating system, device information, device event information (e.g., crashes, browser type), and the page you've viewed or engaged with before or after using our platforms.
Cookies – We use cookies and other similar technologies, such as pixels, local storage, and mobile device identifiers and may also allow our business partners to use these tracking technologies on our platforms, or engage others to track your behavior on our behalf. For more information on our use of these technologies.
Location Data – When you use certain features of our platforms, we may collect data about your general location (e.g. IP address). We use this data to provide you with location-based services (such as advertising and personalized content). Most mobile devices allow you to control or disable the use of location services for applications in the device's settings.
Device Information – We collect information from and about the devices you use, including how you interact with our platforms and information about the device itself, such as the hardware model, operating system, IP addresses, cookie information, device settings, mobile carrier information, mobile device and advertising identifiers, apps installed, browser type, language, battery level and time zone. Apple's iOS Advertising Identifier (IDFA) and Google's Android Advertising ID are examples of device identifiers. This information allows us to recognize and associate your activity, and provide personalized content and advertising, consistently across all of your devices.
Software Development Kits ("SDK") - We may use third parties including our business partners and service providers who use mobile SDKs to collect information and information related to how mobile devices interact with our platforms. An SDK is computer code that app developers can include in their apps to enable ads to be shown, data to be collected and related services and functionality to be implemented. We may use this technology, for instance, to analyze how you interact with content and advertisements and to enable analytics or other features through mobile devices.
Information from Third Parties
Single-Sign Ons – If you sign up for Na Wetti Online Interactions through a third-party application like Facebook, Google, or Apple, you authorize us to collect your authentication information, such as your username and encrypted access credentials, and other information available through the third party application account, including the following information:
Facebook – Na Wetti Online Interactions allows you to sign up and sign in using your Facebook account. If you sign up using Facebook, Facebook will ask your permission to share certain information from your Facebook account with Na Wetti Online Interactions. This includes your Facebook user ID, first name, last name, email address (optional), gender, locale, your time zone, birthday, and profile picture. This information is collected by Facebook and is provided to Na Wetti website under the terms of Facebook's Privacy Policy. You can control the information that we receive from Facebook using the privacy and data settings in your Facebook account. If you signed up using Facebook by mistake, you can delete your account from the Account page within your Settings at any time.
Google – You can sign up and log in to Na Wetti websites using your Google account. When you sign up using Google, Google will ask your permission to share certain information from your Google account with Na Wetti Online Interactions. This includes your Google email address, birthdate (optional), gender (optional), and avatar (optional). This information is collected by Google and is provided to us under the terms of Google's Privacy Policy. You can regulate the information that we receive from Google using your Google activity controls. If you signed up using Google by mistake, you can delete your account from the Account page within your Settings at any time.
Apple - You may also sign up and log in to Na Wetti Online sites using your Apple-ID. When you sign up using your Apple-ID, Apple will ask your permission to share certain information from your Apple account with Na Wetti Online websites. This includes your Apple email address, birth date (optional), gender (optional), and avatar (optional). This information is collected by Apple and is provided to us under the terms of Apple's Privacy Policy. You can regulate the information that we receive from Apple using your Apple-ID settings. If you signed up using Apple by mistake, you can delete your account from the Account page within your Settings at any time.
Service Providers and Business Partners – We may also receive information about you from our service providers and business partners, including companies that assist with payment processing, analytics, advertising, marketing, data processing, and management (e.g. to measure ad quality and responses to ads, and to display ads that are more likely to be relevant to you, including for Na Wetti Online Interactions products) account management, hosting, customer and technical support, content moderation, and other services which we use to personalize your Na Wetti Online Interactions experience.
How We Use Your Information
We use the personal information we collect from you, including with the help of automated systems and decision making, for a range of different business purposes according to different legal bases of processing and subject to the choices you make in your account.
Provide, Improve, and Develop our platforms
We process this information primarily for the adequate performance of our contract with you. We may also process this information in light of our legitimate interest in improving our platforms and giving our users the best experience. Thus we use information:
To operate and maintain your Na Wetti Online Interactions account, and to provide you with access to and use of our platforms. Your email address and password are used to identify you when you log into our platforms. Your device-IDs are used to ensure that you are in control of the devices that have access to your Subscription.
To identify you as the creator of the Media that you upload, the comments that you post and/or the other contributions that you make to our platforms.
To provide creators with stats and insights about users' listening behavior of their Media, (i.e. streaming and downloading their Media or following their profiles).
We conduct surveys and research, test features in development, and analyze the information we have to evaluate and improve products and services, develop new features, and conduct audits and troubleshooting activities.
If you purchase a Subscription, your name, address and payment verification information will be used to process your account subscription and renewals and to collect your payment. All payment verification information is transmitted using industry-standard SSL (Secure Socket Layer) encryption. Na Wetti Online Interactions also complies with the Payment Card Industry Security Standards.
Your email will be used to send you service updates and notifications about your account.
To respond to you about any comment or inquiry you have submitted.
We use your age to enable age restrictions.
Maintain a Safe and Secure Environment
We process this information in light of our legitimate interest in improving our platforms and giving our users the best experience, and where it is necessary for the adequate performance of our contract with you (e.g. Terms of Service).
Detect and prevent fraud, spam, abuse, security incidents, and other suspicious activity.
Verify and authenticate your identity and prevent unauthorized or illegal activity.
Enhance the safety and security of our products and services.
Conduct security investigations and risk assessments.
Prevent or take action against activities that are, or maybe, in breach of our Terms of Service, Community Guidelines, or applicable law.
Provide you with customer and technical support.
Personalize Content, Advertising and Marketing
We process this information based on your consent.
To improve your experience on our platforms by providing personalized content, recommendations, and features.
To customize the content and measure performance of any email, push notification, or in-app message we may send to you.
Administer sweepstakes, contests, or other promotional activities or events sponsored or managed by Na Wetti Online Interactions or its partners.
To deliver targeted marketing for Na Wetti Online Interactions products on and off our platforms and measure the success of those campaigns. When you see our ads on a third-party website or apps, we or third party services engaged for this purpose, may collect information that your browser or mobile app makes available when seeing the ad (e.g IP address, referral URL, browser details, timestamp of request), including whether a click converted to an actual purchase of a Subscription. Please see the privacy policy of such third-party websites to understand what data may be collected and how to opt out.
Ads are more effective when they are shown to people who are likely to be interested in the product or service advertised. For this reason, we use the information we collect and receive to help us select which ads to show you on behalf of advertisers. This includes information you choose to provide to us (e.g. age and gender) and make available to us when you interact with our platforms (e.g. by viewing, liking or creating posts), as well as Device Information and general location data. We may also display ads based on the page you're on or content you have recently viewed, searched. This allows us to show you ads that will likely be more relevant and interesting to you.
When we engage third-party services such as ad networks and exchanges that enable us to show you targeted ads, we may also allow them to collect certain information such as cookie data and Device Information. That information is used to synch or match users to segments and serve targeted advertising, including based on device activity, inferred interests, and general location information. We act based on your consent which you may revisit at all times in your settings.
Combine information we collect about you with information from business partners and use it to serve more relevant advertising.
Furthermore, we may use your data for other purposes, provided we disclose the purposes and use to you at the relevant time, and provided that you consent to the proposed use of your personal data. Which of your data we process on the basis of your consent depends on the purpose of your consent. Typical purposes include:
Subscription to a newsletter.
Participation in surveys and market research studies.
Using cookies and similar technologies according to your settings.
Sharing of Your Information
This section describes how the information collected or generated through your use of our platforms may be shared by you or by us.
Through Your Profile – Any information in your public profile (other than your email address) will be accessible by other users of our platforms, who may view your profile information, read and comment on any of your public Media, add themselves to your list of followers, and send you messages. Profile owners may be able to see in their statistics that you have viewed their posts and that you are following them. This is to allow creators to track the popularity of their posts. Similarly, if you comment on any post and such is approved on our platforms, your comments will be available to all users of our platforms.
With Your Consent – We will disclose your information if you have agreed that we may do so. We will make this clear to you at the point at which we collect your information, including the purpose(s) for which we will use the data.
Service Providers – We use a variety of service providers, some of who may be located outside of the European Economic Area ("EEA"), to provide services to us or to our users on our behalf. These service providers have access to your information solely to perform these tasks on our behalf, and are contractually bound to implement appropriate organizational and technical security measures to protect against unauthorized disclosure of personal data, and only to process personal data in accordance with our instructions and to the extent necessary to provide their services to us. We need to share your information, including personal information, in order to ensure the adequate performance of our contract with you. For instance, we work closely with Service Providers in the area of customer service (i.e. help center, content moderation), with technical service providers (e.g. running computer centres) or copyrights service providers (i.e. rights administration) and payment service providers. These service providers may generally only process your data on our behalf under special conditions.
Advertising – We share the data collected about you, generally in hashed, aggregated, or de-identified forms with advertisers and advertising service providers and business partners in order to serve ads based on your interests and measure the reach and effectiveness of those ads, including whether a user took an action (e.g. purchase a product). We may also share cookie data and device identifiers with service providers for data matching purposes, in order to improve ad targeting.
Social Media – For users outside of the EU/EEA, where permissible under applicable law, or with your explicit consent, we may share your email address (in hashed form, so that it does not identify you) with Facebook in order to target you with ads for Na Wetti Online Interactions products on Facebook and on third-party websites and applications in the Facebook Audience Network. We could also allow Facebook and other social media connected to our platforms to collect information through cookies and similar technologies like pixels in order to serve ads for Na Wetti Online Interactions on those third-party websites and apps and drive users to our platforms. In order to measure the effectiveness of and optimize these marketing campaigns, these technologies track activity taken across devices after a user sees our ad, in order to determine performance metrics like sign-ups, visits to our platforms, and purchases. We undertake these activities based on our legitimate interest in acquiring new customers and offering products we think you may be interested in.
Aggregated Data – We may also share aggregated information (information about our users that we render in such a way that it no longer identifies or references an individual user) and other pseudo- information for regulatory compliance, industry and market analysis, demographic profiling, marketing, and advertising, and other business purposes.
Third-Party Applications – If you choose to connect your Na Wetti Online Interactions account to other apps or social networks such as Facebook you may be sharing certain information with these apps or networks. Na Wetti Online Interactions is not responsible for these other apps or networks, so please make sure you only connect your account with apps or services that you trust.
Compliance with Laws – We may disclose your information to courts, law enforcement agencies, and governmental authorities (i) to comply with our legal obligations, (ii) to comply with legal process and to respond to claims asserted against Na Wetti Online Interactions, (iii) to respond to verified requests relating to a criminal investigation or alleged or suspected illegal activity or any other activity that may expose us, you, or any other of our users to legal liability, (iv) to enforce and administer our Terms of Usage and other agreements with users, or (v) to protect the rights, property or personal safety of Na Wetti Online Interactions, its employees, and members of the public.
Protecting our Rights – We may disclose your information if we feel this is necessary in order to protect or defend our legitimate rights and interests, or those of our users, employees, directors, officers, or shareholders, and/or to ensure the safety and security of our platforms and/or the Na Wetti Online Interactions community.
To Our Affiliates – We may share your personal information within the Na Wetti Online Interactions Group in order to provide our platforms and for any other purposes described in this Privacy Policy.
Change of Control – We may also share your personal data as part of a sale, merger, or change in control of Na Wetti Online Interactions, or in preparation for any of these events. Any other entity that buys us or part of our business will have the right to continue to use your data, but only in the manner set out in this Privacy Policy unless you agree otherwise.
Information Security
Na Wetti Online Interactions maintains appropriate technical, administrative, and physical safeguards that are designed to prevent unauthorized access, use, or disclosure of personal information we collect or store and to ensure a level of security appropriate to the risk of varying likelihood and severity for the rights and freedoms of natural persons that may be involved with our processing operations. We regularly monitor our systems for possible vulnerabilities and attacks. However, it is not possible to guarantee the security of information transmitted over the Internet. You use our platforms and provide us with information at your own discretion and risk.
Children
We do not knowingly collect any personal information from any person who is under the age of 13, as the case may be, or allow them to register an account. If it comes to our attention that we have collected personal data from a person under the age of 13, as applicable, we will delete this information as quickly as possible. If you have reason to believe that we may have collected any such personal data, please notify us immediately at info@nawetti.com
Your Choices and Controls
We do our best to give you as much choice as possible regarding the amount of information you provide to us, and the control you have over that information.
Managing Na Wetti Online Interactions Settings. If you register an account, you may manage the content and information you share when you use Na Wetti Online Interactions through your Account Settings, including the features explained below. You are solely responsible for keeping your Settings up-to-date.
Email – You can adjust your settings in the Notification tab to disable email and desktop notifications (other than important service updates and essential notifications about our platforms or your account). All commercial emails and newsletters also allow you to unsubscribe at any time.
Analytics – To control whether we collect analytics and usage information, including through cookies and similar technologies, you can adjust your settings in the "Analytics" tab.
Marketing – If you do not want to receive personalized ads, offers, or other marketing messages for Na Wetti Online Interactions products or services, you can adjust your settings in the "Communications" tab.
Advertising – If you do not want Na Wetti Online Interactions to deliver "interest-based" or personalized ads for third-party products, you can adjust your settings in the "Advertising" tab. Please note, however, that even if you opt-out of personalized ads, you may still see ads, but they will likely not be as relevant or useful to you.
Content Sharing – It's not possible to make your account entirely private. However, you do have the option to make all of your private content and other uploads private. This means that no one will be able to your Media without your explicit permission.
Third-Party Apps – If you have chosen to connect your account to a third-party application, like Facebook or Google, you can disable permission for the app by adjusting your Settings in the "Connections" tab.
Third-Party Developers – Na Wetti Online Interactions may introduce an open API, which allows third-party developers to build some really cool apps as an extension of our platforms. If you would prefer that your Media are not made available to third-party app developers when such is available you will have an option to be able to disable.
Deleting Your Account – If you have an account and would like to delete it, you may do so by adjusting your Settings in the Account tab. If you delete your account, all data associated with your account (except for backup copies), including the Media that you have uploaded and the usage data associated with those Media, will be deleted and may not be recoverable. We, therefore, advise you to copy or backup all content uploaded to your account before deletion. Even if you delete your Na Wetti Online Interactions account, it is possible that your information may still show up in some internet search results for a short while afterward, if the search engine maintains a temporary cache of web pages. Search engines' caching processes are outside of Na Wetti Online Interactions' control and therefore we cannot be responsible for any information that remains cached by search engines after that information has been removed from our platforms.
Managing Browser Settings
To control cookies, you can modify your settings in most web browsers to accept or deny cookies or to request your permission each time a site attempts to set a cookie. You can also manually delete previously-stored cookies at any time. Please note that if you choose to block cookies, doing so may impair our platforms or prevent certain elements of it from functioning.
Exercising Your EU Privacy Rights
If you are a user residing in the EU/EEA, you may exercise any of the rights by contacting us at info@nawetti.com. Please note that we may ask you to verify your identity before taking further action on your request.
Data Access and Portability
You may be entitled to request copies of your personal information held by us. While a lot of the personal information you provide to us can be accessed in your Account Settings, you may also be entitled to request copies of personal information you have provided to us in a machine-readable format.
Change or Correct Data
Where you cannot update data yourself through an account, you have the right to ask us to correct, change, update or rectify your data.
Data Retention and Deletion
We generally retain data for as long as is necessary to provide services to you under your account or, for as long as is necessary to provide our platforms to you as a registered or unregistered user.
You have the right to ask us to delete all or some of the personal data we hold about you. If you have an account, you can also delete your account through the Settings at any time as described below.We may need to retain some of your personal data even after you have closed your account if reasonably necessary to comply with our legal obligations (e.g. under applicable tax or commercial law or to prevent fraud and abuse and maintain and enhance security). Afterward, we delete the data immediately, unless we need the data until the expiry of the statutory period of limitation for the purpose of providing evidence for civil law claims or because of statutory storage obligations (e.g. for accounting reasons).
Objection to Processing
You have the right to object to processing your personal information on grounds relating to your particular situation at any time (in particular, where we don't have to process the information to meet a contractual or other legal requirements, or where we are using the information on the basis of our legitimate interests).
If you object to such processing Na Wetti Online Interactions will no longer process your personal information for these purposes unless we can demonstrate compelling legitimate grounds for such processing or such processing is required for the establishment, exercise, or defense of legal claims or obligations.
Withdrawing Consent
Where you provide consent to the processing of your personal information by Na Wetti Online Interactions, you may withdraw your consent at any time by changing your account settings or by sending a communication to Na Wetti Online Interactions specifying the specific consent you are withdrawing. Please note that the withdrawal of your consent does not affect the lawfulness of any processing activities based on such consent before its withdrawal.
Contact Information
If you have questions or complaints about this Privacy Policy or our practices, please contact our Data Protection Service by email at info@nawetti.com or write to our Data Protection Service at MAHSRA INCORPORATES LTD, Savannah Junction – Commercial Ave, PO Box 1091 – Bamenda, North West Region – Cameroon
Changes to this Privacy Policy
We may update this Privacy Policy from time to time at our sole discretion. If we make changes to this Privacy Policy, we will post the revised Privacy Policy on our platforms and update the "Last Amended" date below. Please be sure to periodically check this page to ensure that you are aware of any changes to this Privacy Policy. Any material changes to this Privacy Policy will be communicated to registered users by a notification to their account and/or by posting a notice of the change on the Website. Your continued access to or use of our platforms after the effective date of such changes will be subject to the revised Privacy Policy.
Updated: April 16, 2021
Best offers
Join Risk Free
30 days refund
100% Safe
Secure Shopping
24x7 Support
Online 24 hours
Free Shiping
On Special Orders
Know Us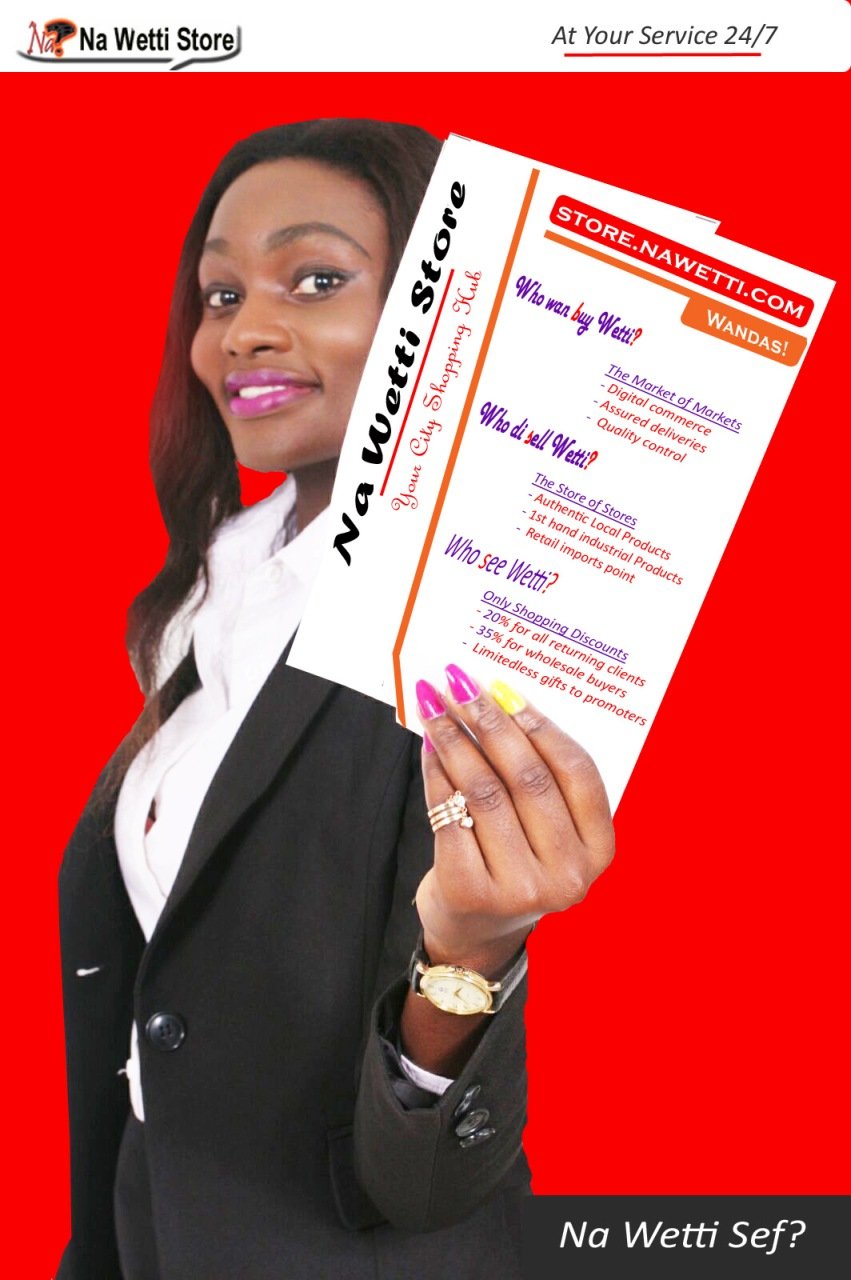 Who wan buy Wetti? The Store of stores
$ Authentic Local Products.
$ 1st hand industrial Products .
$ Retail imports point.
Read More
Product Showcase